The Jewel Beetle Story
Established in 2004
Through friendship, collaboration and a love of craftsmanship, the creative partnership that is Jewel Beetle was born.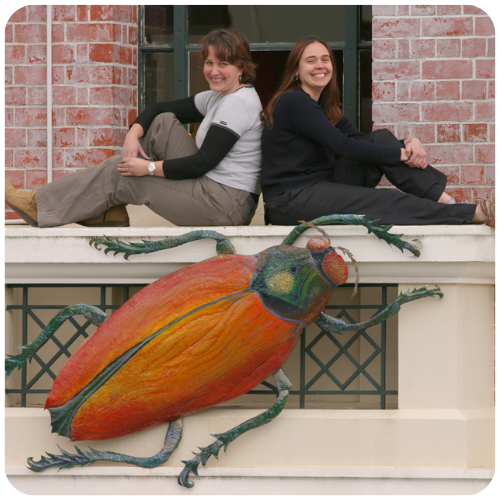 Jewel Beetle - A creative partnership of jeweller's Allison Judge and Yvon Smits
Destined to meet through a mutual friend, Allison and Yvon, both classically trained goldsmiths, began collaborating in a small studio in Nelson in 2004. Fusing their distinct creative skillsets and styles, they craft beautifully intricate, refined, and feminine pieces. The Jewel Beetle name was decided upon from a poet friend who suggested it. After researching Jewel Beetles and discovering how colourful and iridescent the beetles are, they thought it was the perfect name for their business. In 2016, they moved to their new retail premises on Bridge Street in the heart of the city. Which is where their shop and workshop still operates from today.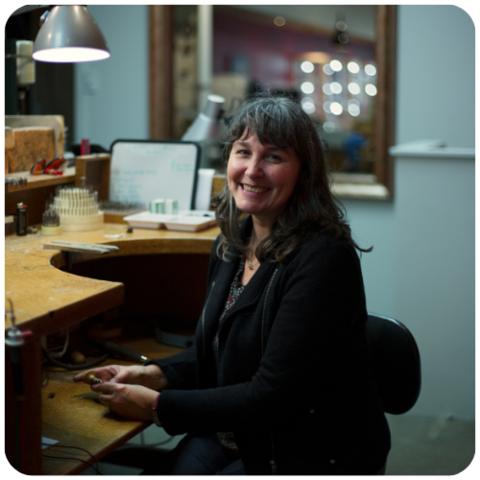 Yvon Smits - Goldsmith
Yvon Smits trained as a goldsmith at the Vakschool, Schoonhoven in the Netherlands and gained experience at workshops in Germany and Holland, before opening her first studio-workshop, in Venlo in 1988. She moved to New Zealand in 1994 and ran a studio- workshop from her home while her children were young.
"We both trained and worked as goldsmiths in the UK and the Netherlands, and love extending our skills and creativity. Nature is a big inspiration. Our range of charms, brooches and pendants reflect our love of the birds and native trees of Aotearoa-New Zealand, the land we now call home."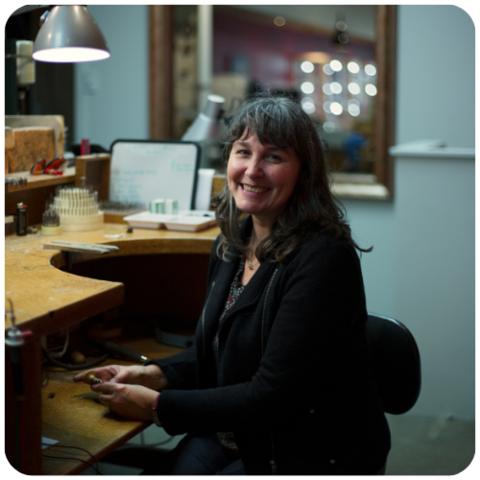 Allison Judge - Jeweller and Designer
Allison Judge studied at the Kent Institute of Art and Design, graduating in 1993 with a Higher National Diploma in Jewellery Manufacture and Design, and moving on to work in Hatton Garden and then as a designer for respected London goldsmith Elizabeth Gage. When her travels brought her to New Zealand, Allison settled in Queenstown, working as an in house jeweller designing for the Jade Factory before moving to Nelson.

"Making jewellery is a deeply rewarding occupation. For over 20 years we have been motivated by the pure enjoyment of crafting beautiful objects. We love what we do – working with precious materials is a kind of magic and our enthusiasm and passion is crafted into every piece."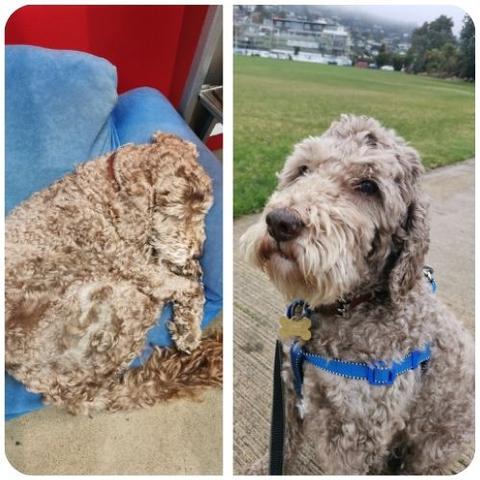 Tana - Head of Security and Cuddles

Tana comes to work with Allison most days and has an important role in the day to day running of our business. As head of security Tana sits or lies on his chair checking out what is happening over the counter. When we are in need of a cuddle, he's always pleased to provide this service. One of his important duties is to keep the kitchen floor clean and tidy. Recently Tana had a job review and is on a written warning for sleeping on the job.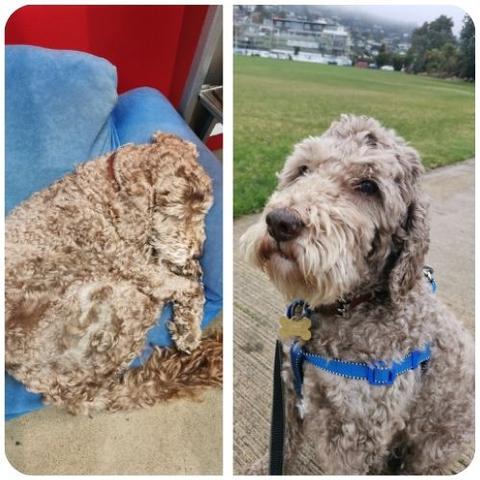 Jewellery Crafted with Passion
With a love of embracing the natural beauty of precious materials, Allison and Yvon make their jewellery by hand, crafting their passion into every piece.
Allison can lose herself for hours in wax carvings, captivated by the creativity of evolving ideas into designs, whereas the technical challenges of jewellery making are what motivate Yvon. Being traditionally trained, they both have high expectations and pay meticulous attention to detail, creating beautifully wearable, forever-lasting pieces.

With their work often inspired by their stunning natural surroundings, the Jewel Beetle duo also cherish the thought that their creations will take on a story of their own once they have left their studio.

"We love seeing people who are thrilled with their new jewellery - and we love the satisfaction of knowing it was all  designed and crafted right here at Jewel Beetle." 
Yvon and Allison are like-minded in the support they offer each other in the workshop, and in maintaining a work-life balance that allows them to enjoy the Nelson lifestyle.
Our Promise to You
We're excited by the challenge of interpreting your ideas. Every item of jewellery is profoundly individual - to design a bespoke piece requires a level of understanding, intuition and empathy to listen to you, the client, a skill we have refined in 12 years at Jewel Beetle.

We will listen to your requirements, consider your budget and ensure you leave with a piece of jewellery that makes you very happy. We look forward to welcoming you back when it's time for the next addition to your Jewel Beetle collection, or when you need a special gift made for someone you love.